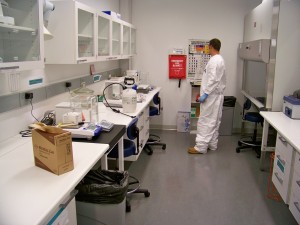 CES will coordinate the cancellation/suspension/transfer of existing environmental and safety permits and licenses, including, the Nuclear Regulatory Commission license; wastewater discharge permit; EPA identification number; and the controlled dangerous substances (CDS) registrations with the State agency and the Federal Drug Enforcement Agency.  CES will also monitor and document the effectiveness of the decontamination work being performed by others on equipment, laboratory furniture and building surfaces.
Closure Environmental Assessment/Site Investigation
CES will complete and document an environmental site assessment (ESA) and/or site investigation (SI) in compliance with any applicable State requirements (i.e. ISRA in New Jersey) and/or document site conditions when operation ceased for reference in the event of future claims or disputes.
Cancellation of Licenses and Permits
CES will contact the appropriate agencies and submit the required notices and forms to document the closure of laboratory operations and to affect the cancellation of any obligations associated with the license(s) and/or permit(s).  Permits and licenses may include:
Nuclear Regulatory Commission (NRC) radioactive material license;
Controlled dangerous substances license(s);
RCRA Site Identification Number (EPA ID) for hazardous waste generators;
Wastewater discharge authorization;
Closure of the radiation laboratory in accordance with the site NRC license;
Air quality permits.
Monitor and Document Decontamination Efforts
CES will work with the firm contracted to decontaminate the surfaces potentially impacted by laboratory operations, chemical or waste and provide the following:
Advise regarding proposed/employed decontamination methods;
Monitor and document decontamination efforts, as warranted;
Examine and survey laboratory working services (i.e. benches, hoods, cabinets, etc) for indications of contamination (i.e. residues, stains or damage);
Visually examine ducts, floors, sinks and drains for evidence of contamination and, as appropriate, conduct testing similar to that described for work surfaces;
Produce a report documenting the decontamination effort and results.